HOME PAGE
Visiting Woolton?




If you're visiting Liverpool and are planning a trip to Woolton village, then you might welcome the following information.

Although there is a Beatles 'Magical Mystery Tour' guided coach tour that covers all of the relevant places of interest, some of you with a budget to watch, and who don't mind short 10-minute walks, can travel by public transport to the most popular Beatles sites in, and en-route to, Woolton village.

If you go to the Tourist Information Centre, Queen Square, in the city centre, you can purchase a one day local area 'C' off-peak Saveaway bus ticket for £2.40p, that gives you unlimited off-peak mid-week travel on all buses within the Liverpool area and you can travel all day at weekends - the tickets represent very good value for money. Whilst you're at the Tourist Information Centre buy yourself a tour guide of Liverpool to help you navigate your way round the city centre and, I can recommend you buy 'Discover Lennon's Liverpool' and 'Discover the Beatles' both are tour guides with maps and are, like the Saveaway, very good value for money. Whilst here you can also buy Beatles books and memorabilia or Liverpool souvenirs. You can also buy more specialist Beatles gear from The Beatles Shop, 31 Mathew Street, or From Me To You, Cavern Walks, Mathew Street, both shops in the Cavern Quarter of the city centre. Another great shop for souvenirs etc is the gift shop at the Colonnades, Albert Dock (just around the corner from the Beatles Story, Britannia Vaults). There's some great alternative shopping at Quiggin's emporium, Renshaw Street Chapel building, opposite Rapid Hardware.

When you've bought your Saveaway ticket walk to the Paradise Street Bus Station (a five minute walk from Queen Square) where you can board the 74, 75, 76 or 78 bus, which all pass through Woolton. If you're an ardent Beatles fan then the best bus to travel on is the 76 (renumbered 77 after 6.30pm and at weekends). This bus travels by, or very near to (just a few minutes walk in most cases), the following sites. The bus actually passes those marked with a *:

Smithdown Road - Site of Sefton General Hospital, now supermarket.
93 Garmoyle Road - Almost opposite the above site.
316 Smithdown Road* - The Old Dutch Cafe.
Allerton Road* - Woolworth's where Cynthia Lennon Worked.
Penny Lane* - Haunt of the Beatles.
Dovedale Road - (off Penny Lane) County Primary School and Dovedale Towers.
9 Newcastle Road - (off Church Rd, Wavertree) John Lennon's first home.
Church Road,* Wavertree - Bluecoat School attended by Alfred Lennon.
Harthill Road - Quarry Bank School.
Calderstones Park* - Linda McCartney Children's Playground opened by Paul in 1998.
Beaconsfield Road* - Strawberry Field.
251 Menlove Avenue* - Mendips.
120a Allerton Road, Woolton* - John Lennon's two sisters lived here.
Church Road, Woolton - St. Peter's Church Hall where John & Paul First met in 1957.

For in-depth info' on the above locations read through your two Beatles tour guides ('Discover Lennon's Liverpool' and 'Discover the Beatles') on the bus as you travel to Woolton.

When you get to Woolton there's plenty of places to refresh your taste buds so check out Food & Drink and have a good à la carte, fish & chips or a sandwich!

For those who feel they can handle a 20 minute walk you can follow the footpath across Allerton Golf Course (almost opposite Mendips) to Paul McCartney's house, 20 Forthlin Road. You might also like to visit 1 Blomfield Road (less than 10 minutes from Forthlin Road), where John Lennon's Mum, Julia, lived for a short while.

If your funds can stretch that far you could try the Beatles 'Magical Mystery Tour' guided coach tour or, visit Speke Hall, Speke, where you can board the 'Day Tripper' mini-coach that will take you to 20 Forthlin Road and 251 Menlove Avenue.


251 Menlove Avenue - Mendips
Home of John Lennon.





120a Allerton Road, Woolton
120a is the small cottage on the left.




1 Blomfield Road
John's Mum, Julia, lived here for a while.




20 Forthlin Road
Home of (Sir) Paul McCartney.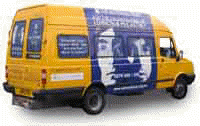 Day Tripper mini-coach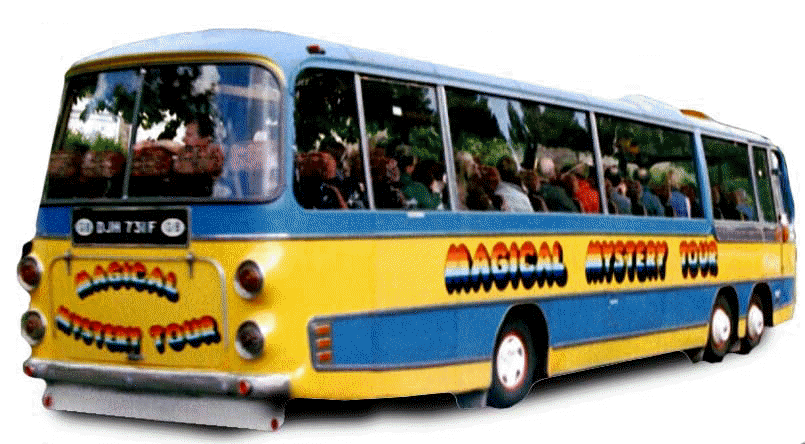 Magical Mystery Tour coach