HOME PAGE
Yellow Submarine

From a design by Graham Burgess, the apprentices of Cammell Laid Shipbuilding Yard, Birkenhead, Wirral, built this 20-ton submarine, which is 51 feet long and made from plate metal, for the Liverpool International Garden Festival in 1984.

It was transported across the River Mersey to the Festival Garden site at Otterspool where it was one of the main attractions for millions of visitors. But, in 1997, the Festival site finally closed and the Yellow Submarine was left high and dry.

The tide turned when Liverpool City Council stepped in to rescue the Fab' Four's rusting sub' and give it a new berth in the city centre. The Yellow Submarine was taken [along Menlove Avenue, past John Lennon's house, Mendips] to a council depot where it was repaired and renovated by New Deal trainees from the Liverpool Architecture Design Trust.

Fully ship-shape, it was re-launched at this site [Chavasse Park] on 24th August, 2000, for a new generation of Beatles fans. And in December 2004 it was removed to a Council depot in Old Swan for restoration and storage whilst Chavasse Park, and the surrounding area, is refurbished as part of the Paradise Street Regeneration programme, which is due for completion in 2007.
(Th

e above

After restoration Liverpool John Lennon Airport were granted permission in 2005 to have the Yellow Submarine temporarily located outside the main entrance to the airport where it now stands in all its glory.


Yellow Submarine
Photo taken when it was located at Chavasse Park, opposite the Albert Dock.





Yellow Submarine
relocated to Liverpool
John Lennon Airport.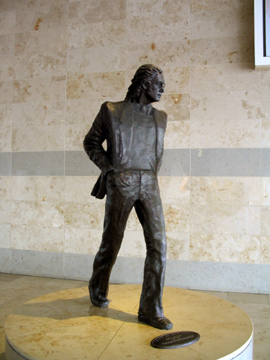 John Lennon Statue
Statue of John Lennon located inside the airport.